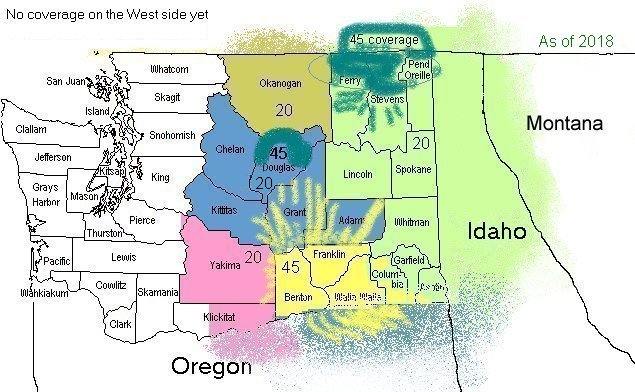 This map shows Counties in Washington. This is not to be confused with the coverage area labels. For example, the "20-Omak" access point is in Okanogan County. The user selects appropriate repeater pair (frequency) and inputs the sub-audible tone (user transmit) for area he/she is in. The user leaves his/her receiver on carrier squelch, however. Coverage area is indicated with colors. Note: There is some overlap and lines are approximate. They are a general guideline. "Your mileage may vary". Tones are specified in "Coverage Areas". For more details, such as the access information, return to the main page and click on "Contact".
This is one repeater on 147.20 MHz SRG coverage area labels:


"Spokane" = green area


"Wenatchee" = blue area


"Omak" = mustard area


"Yakima" = pink area



Secondary pair:

However, there is an additional (second) 145.45 MHz frequency (pair) added to help out with the 20 repeater. 45 coverage is:
"45-Tri-Cites" AKA, "KPR" or "TC" = yellow area (except on 45)


"45-Chelan" AKA, "CHE = teal area (except on 45)


"45-Colville" = teal and a little of the green areas (except on 45)

But remember; it's ONE System (repeater); nothing to turn on or off.

In 2021 a slightly updated map shows another way to look at coverage of SRG. The colors are generally the same with the addition of "gray" (slate) which indicates weak or no mobile coverage for a few miles. The stronger color (deeper)indicates "local" coverage which the lighter "spackle" indicates weaker coverage, but very usable. White indicates no survey data is supplied for this update. However, there may be areas in the white with coverage. Remeber, this is a general coverage map mostly by memory by the Author. Your "mileage may vary", pun intended. This map can be made larger by clicking on it.